Andy Polansky
With a long history of achieving outstanding client and business results, Andy has led Weber Shandwick to an industry-leading position in communications and marketing services since becoming CEO in 2012. Having won many of the most prestigious industry awards under his leadership, Andy's passion for client service, culture and collaboration run deep throughout the firm.
Our profession has never been held in higher regard and for good reason - we're uniquely positioned to help organizations find their voices and simultaneously grow their businesses...
Profile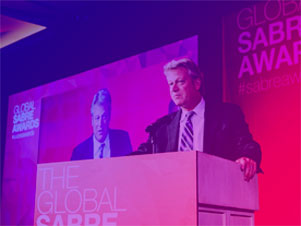 Andy's Story
Andy Polansky is Chief Executive Officer of Weber Shandwick. Andy was named CEO in November 2012 after serving as global president since March 2004.
Andy has a long track record of outstanding client and business results. Under his direction, Weber Shandwick was named to the prestigious Advertising Age Agency A-List in 2014 and 2015, and in 2017 and 2018 the firm was featured in the A-List issue as a "Standout" Agency. Weber Shandwick also was PRWeek's 2015, 2016 and 2017 Global Agency of the Year, and The Holmes Report's 2014, 2015 and 2017 Global Agency of the Year. In addition, the firm was recognized as a Best Place to Work by Advertising Age in 2014 and 2015 and PRWeek in 2013 and 2014.
Over the past few years, Andy has guided Weber Shandwick to an industry-leading position in digital, social media and content marketing. The firm also has been recognized as a top Corporate Responsibility Advisory Firm by CR Magazine.
Andy has a deep passion for client service and collaboration. He led the development of Weber Shandwick's Client Relationship Leader program, which has been featured as a Harvard Business School case study, and serves as a senior strategist on a number of corporate client engagements.
Andy received The Holmes Report's Individual Achievement Award in 2016. He was also named #1 on PRWeek's Power List in 2016 as well as PRWeek's Global Professional of the Year (Agency) in 2015. In 2010 he was named to the PR News Hall of Fame. Andy received the prestigious Plank Center for Leadership in Public Relations' Milestones in Mentoring Award in October 2014. This honor reflects his people-centric leadership and long-standing personal commitment to diversity and inclusion.
Andy spearheaded the development of the firm's Making an Impact program, which encompasses pro bono community outreach programs that Weber Shandwick supports globally. In addition, Andy serves on the Board of Directors for The Ad Council, a private, nonprofit organization that produces, distributes and promotes public service campaigns on behalf of nonprofit organizations and government agencies in issue areas such as improving the quality of life for children, preventive health, education, community well-being and strengthening families.
From 2010 to 2012 he served as chair of the Council of Public Relations Firms, the U.S. trade association for public relations agencies. Andy also is a Board of Trustees member of the Arthur W. Page Society and a participant in The Seminar. He also has served as an Institute for Public Relations (IPR) trustee and on the board of the PRSA Foundation. Andy also currently serves on the Board of Trustees for the VNA Health Group/Visiting Nurse Association of Central Jersey, Inc., the state's largest nonprofit visiting nurse and visiting physician service that provides hospice care and other community health resources. Andy also has served as a non-executive director of Freeplay Energy, a global supplier of clean, off-the-grid energy products.
Prior to joining Weber Shandwick (as a member of a firm then known as Bozell Public Relations), Andy was a municipal reporter for the Bucks County Courier Times in Levittown, PA, a business and feature writer for the Princeton Packet in Princeton, NJ, and a sportswriter at The Trentonian in Trenton, NJ.
Andy holds a Bachelor of Arts degree from The College of New Jersey (TCNJ) and sits on the TCNJ Foundation Board of Directors. In 2015, Andy received the Alumni Citation Award, which is bestowed upon an alumnus who has shown exceptional pride and commitment to the college and has served as a positive role model after graduating from TCNJ.
---